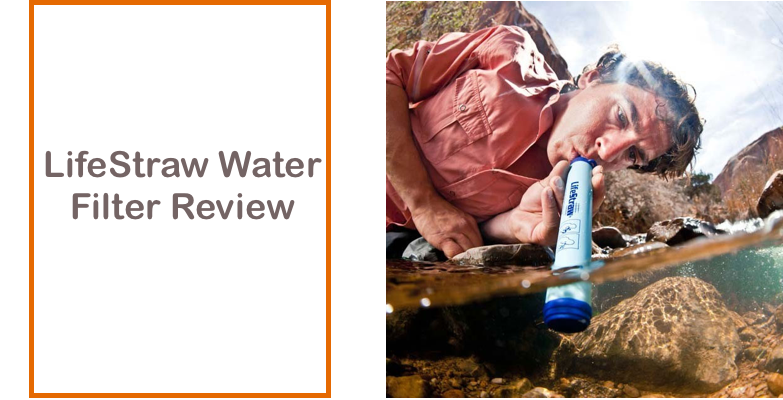 Clean drinking water is the primary requirement of the whole world and with that notion Lifestraw Person Water Filter is made. This is a product of 8.75"L x 1"W which you can easily carry in your backpack during a tour and you can easily drink water directly from the stream, river, lakes, and, puddles. During its lifetime the filter purifies more than 1000 liters of water without any doubt removes bacteria, protozoan parasites, and others. There is no changeable part in it, and no batteries or other power supply is needed for the filter to work.
Lifestraw Personal Water Filter is actually a wonderful life-saving product. It is comprised of a bottom cap, a mouthpiece cap, and a separable lanyard. There is no chemical in the construction. It is a cylinder-like feature which is made of BPA-free plastic and chemical-free membranes. The membranes are made with the small pores which actually separates the contaminant from the water. The pores are smaller than the contaminants, like bacteria, and they get easily trapped. The water passes through but the contaminants (more than 0.2 microns) cannot. It can remove about 99.99% of bacteria (E-coli, and others), and 99.99% water-born parasites.
Check Latest Price
This portable device is simple to operate. Wherever you are either, in a tour or in any disastrous condition, when you find water put the bottom part of the filter into the water and drink till you are full. As you draw the water up, it is filtered through your sucking. That's why it has become popular among travelers.
The filter has a long life span and you do not need to change any part until it stops working. When it has already filtered 1000L water the filtration process will stop and water cannot pass through anymore. Then just put it into the garbage. The filter is totally recyclable and thus it is an eco-friendly product.
Pros                                                                          
Removes microplastics
Removes bacteria and parasites
A long lifetime of purifying 4000 liters of water
Very light product
Becomes helpful during a natural disaster
Totally recyclable
Cons
Without proper cleaning after using the filter may not last long
Can not eliminate chemicals
Final Verdict
Every year many people throughout the world die because of the contaminated drinking water. Lifestraw Water Filter is an invention which has come to change the world. Its target was to supply pure water to the disastrous area. It is also used in developing countries where waters are mostly contaminated. And now it is used by the travelers for the distant place. I just need to put this filter and start my journey wherever I want. This filter has removed all my thinking about the water of the distant place I want to visit and spurns me start my journey whenever I am free.
So Lifestraw is a great invention which is necessary for people of any age. It prevents different types of water diseases like typhoid, cholera, dysentery, cryptosporidium, gastroenteritis, hepatitis E, and many others. So in this world of disease, this filter is a great relief to the distressed people. It turns the turbid water into crystal clear drinkable water. As the filter cannot remove chemicals from water, you need to use the cleanest water available. This drawback will be solved with an updated version of the Lifestraw.
So there is no alternative filter available which works as perfectly as Lifestraw filter does. It has the life-saving quality to help the people who are in distress. This is a highly recommendable filter especially for the school-going children, travelers, and the people from the disastrous area.